As little Bailey Matthews entered the home straight, he pushed aside his walking frame and took his first stuttering steps towards the finishing line.
Captured on video by a spectator, it was a truly inspirational moment that went viral and was seen by millions around the world, from his native Nottinghamshire to New Zealand.
With dogged determination, and despite falling over twice, eight-year-old Bailey joyfully scampered to the line and into the arms of his proud dad Jonathan.
Bailey had completed the 100 metre swim, 4km bike ride and 1.3km run that makes up the children's race of the Castle Howard Triathlon in North Yorkshire in July.
Taking just under an hour and a half, Pride of Britain Awards Child of Courage winner Bailey was the last to finish, but was roared home by a huge crowd of emotional spectators
Bailey steps away from his walking support as he completes his first ever triathlon with Dad Jonathan looking on
Born nine weeks premature, Bailey was first diagnosed with cerebral palsy – a neurological condition that affects movement and speech – at the age of 18 months.
But he has always refused to let his illness get in his way. Mum Julie says: "Nothing stands in Bailey's way. Things like getting dressed are hard. Day-to-day, he does struggle but it doesn't bother him.
"At school he joins in with the same things as everyone else – he has never been excluded from anything – he just adapts."
Last week he was surprised by comedian David Walliams, who handed over his invitation to the Pride of Britain Awards while Bailey was on a trip to London.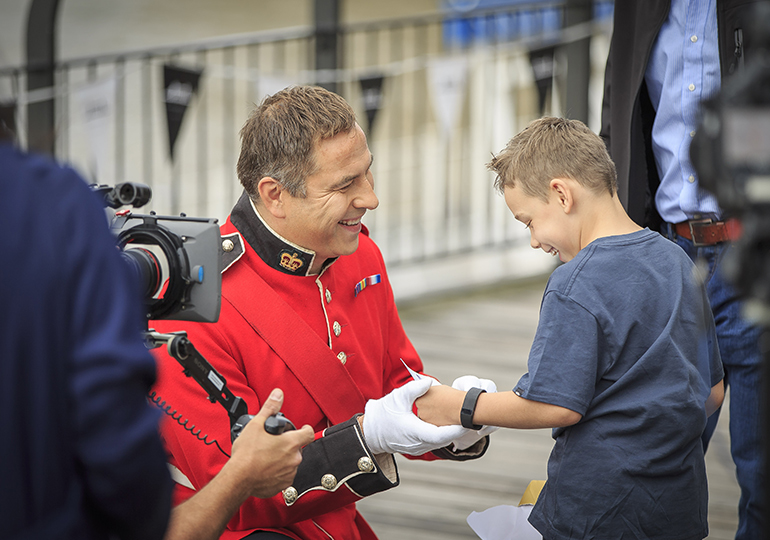 Comedian and actor David Walliams surprised 2015 Pride of Britain Child of Courage winner 8-year-old Bailey Matthews whilst dressed as a Queens Guard on St Katherines Dock
Julie has been stunned by the global reaction to Bailey's triathlon feat. She says: "We never thought the video would go as big as it did. The triathlon was just a personal little challenge for Bailey. The comments on Facebook and the internet were really overwhelming and lovely.
"Because we know Bailey, when he says he is going to do something, he does it – and it may not always be in the conventional way.
"It wasn't a surprise to us that he did it because that's what he set out to do. I certainly didn't expect the reaction we got from the world. Bailey has loved it all."

Jonathan says: "It was amazing. On the day of the triathlon Bailey just pushed it and pushed it and carried on.
"He loved it. You can see that towards the end he was knackered until the spectators gave him a new lease of life – it pushed him."
Julie adds: "A lot of children and adults say, 'I'm not going to do that because I don't want to look an idiot'. People miss out, but Bailey doesn't have that thought in his head at all.
"We have never told him he can't do anything. Nothing is ever a no because if he believes he can do it, there is no reason why he can't."
Pride of Britain presenter Carol Vorderman said: "I thought Bailey was just incredible. The determination and perseverance he showed to keep on going to the finish line was absolutely inspirational.
"He's an amazing example to children – and adults."
What the judges said
I thought Bailey was just incredible. The determination and perseverance he showed to keep on going to the finish line was absolutely inspirational. He's an amazing example to children - and adults.Carol Vorderman